Holy War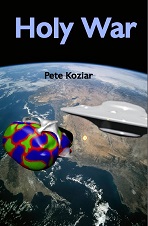 The second novel in the Galactic Redemption Series is now available at Amazon in paperback and Kindle formats.
You can read the first two chapters here.
In it, all that stands between the Earth and the tyranny of the grim aliens, the Norgratz, is a crippled spaceship and a band of outcast scientists.
The novel begins literally minutes after the end of Seeking Adam, continuing the story into the next phase, where D'linwaa and humans are forced to trust each other and work together, desperately attempting to repair the crashed D'linwaa ship before the Norgratz fleet arrives. It introduces new characters, but also carries forward some familiar faces.
My first two novels were character-driven, but this one is more plot-based, fast-paced from start to finish.
The cover shows a D'linwaa fighter of the Seer'haa class from the book, in a fight with a Norgratz probe ship. I don't want to give too much away, but the Seer'haa are intelligent enough that you don't pilot them as much as you "ride" them like a warhorse. They can, however, be a bit... tempermental.